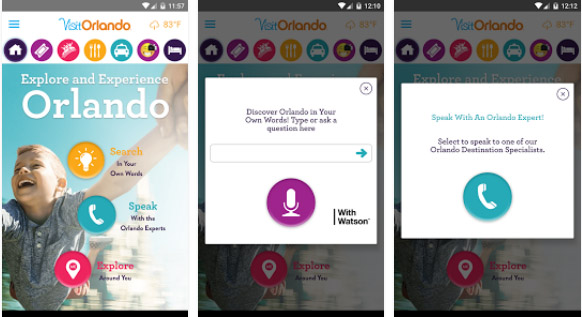 Tag:
blackberry devices
Overview :
Visit Orlando Destination App for blackberry devices
The official tourism association App for Orlando is your virtual concierge to navigate and make the most of your Orlando vacation.
 • Around Me Interactive Mapping – A navigation experience that lets you choose between a map view or an Augmented Reality map experience
 • Personalized Recommendations –Plan your ideal day or find your perfect hotel, restaurant or shopping adventure through a Smart Search │ With Watson™ that taps into artificial intelligence technology. Your recommendations are based on your interests, time of day, location and weather and then are refined by pulling from numerous data sources including TripAdvisor, TrustYou and others.
 • Tickets, Deals and Discounts – Purchase discounted theme park, attraction, sports and entertainment tickets, tap into daily deals and discounts
 • From Virtual to Personal – Click-to- dial one of Visit Orlando's Destination Specialists
Play Some Games and Have Some Fun – Earn rewards by playing the interactive "Selfie Scavenger Hunt" or unlock deals through the Augmented Reality "Magical Orb" game
 • Official Content – Discover official information for accommodations, attractions, dining, entertainment, shopping, golf, sports, recreation and outdoor, spas, wedding and ceremony venues and more
 • Events – Learn about events that are happening while you're in Orlando
Supported Blackberry Cellphone Models Devices:
KEYone, Priv, DTEK60, DTEK50