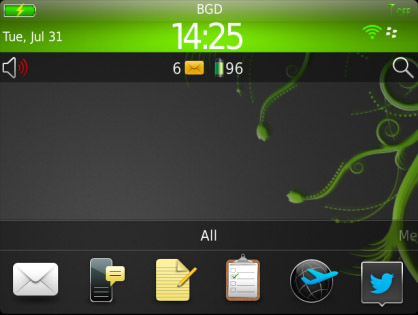 Tag:
curve
Clean
93xx
Naturize
Overview :
Naturize Clean v5.0 - HD summer 93xx themes
size: 375 kb
model: 9300, 9330 curve themes



Description:
- The OS 7 version of this theme includes sliding trays.
- Certain features of this theme (such as bouncing icons) are not available on OS 7 models, because of development constraints, as the theme building software for OS 7 devices has not been released yet.
- To activate the theme, please select Options - Display - Screen Display, scroll down to the installed themes list.
Features:
- Refreshing green graphics through out the screens
- OS 7 icons
- Smooth, fading transitions
- Crisp glossy icon focuses
- Runs very fast
- Very low file size, does not load up device memory.