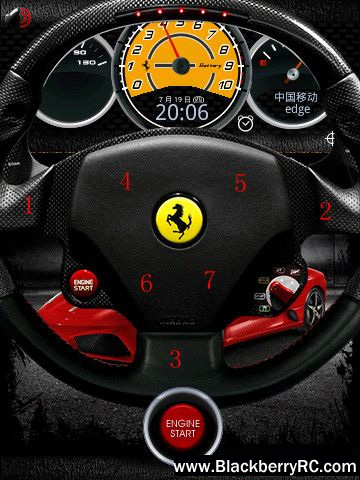 Tag:
Speed
Ferrari
Overview :
Speed Ferrari for bb 95xx storm themes
The Speed theme for BlackBerry has been out for a few months, but we thought it was time we actually took it for a test drive. It gets hard to pick which platform you want as you can have Ferrari, Lambo, Porsche, BMW, Mercedes, Audi, and Lexus. I took the Ferrari for a spin. The theme looks excellent, the layout is terrific, and the graphics are outstanding. The home screen has excellent colors and graphics, the gauges on the top work great and provide necessary information: clock, profile, antenna, blue tooth, alarm clock and 2 scroll over gauges which display messages and calendar events below. A steering wheel with 6 more user-defined icons slides onto the screen from the left when the "ENGINE START" button is actuated. The menu is well designed with a dark diamond steel background and icons that remind the user of the theme.
There are, however, a few flaws with the theme as well. The phone reacts slowly to basic operation, the steering wheel controls are hidden unless theuser scrolls, blindly, until one of the icons is selected and lit, the steering wheel slide is choppy and navigating between the Gauges and Steering Wheel or Data icons is a nightmare. If the Steering Wheel is activated the user must close it to get to the Calender or Messages. The BBM icon is shown in the Messages gauge but is not shown in the messages list below, messages have to be opened to see that information, and some icons (Yahoo Messenger, WeatherEye, etc.) do display real-time information in the steering wheel.
Overall this is an excellent theme for those that do not mind an extra step or two to navigate through the phone, for those of us who need access to immediate information can , or in this case, were spoiled by the BlackBerry Pro V3 theme.
BlackBerry support model: 9500, 9510, 9520, 9530, 9550
Thanks and hope you enjoy!