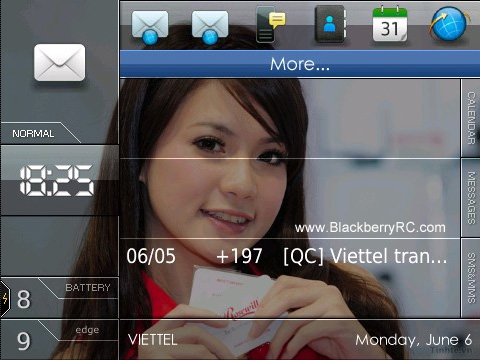 Tag:
9000 themes
BriskPlus
Overview :
free BriskPlus theme ( 9000 os5.0 themes )
Features:
Change the active call and incoming call screen background by the wallpaper.(except 8900 and 9000 version)
Change the lockscreen background by the wallpaper.
22 customized icons for 85|89|90|93|96|97 versions,17 customized icons for 98 version.You can forget the applications list now.
Calendar,Messages and Text messages list display on desktop.
Click "0" to show the calendar list,
Click "i" to show the customized icons list,
Click "z" to show the top customized icons only,
Click "escape" to hide all dock.
Click "space" to the 23th application in the applications list.(9800 version:18th app.)
Click "$" to SMS and MMS directly on the desktop.
Click unread icons to messages,Click battery meter to options,Click signal meter to manage connections.
The newly designed notification icon.
Digital battery and Signal meter.
Support the weather show and the profiles display on desktop.
Clear font,user defined menu and message list font.
Wallpaper friendly.
No time lag and requires less memory.
Free update.

BlackBerry support model: 9000

Thanks and hope you enjoy!