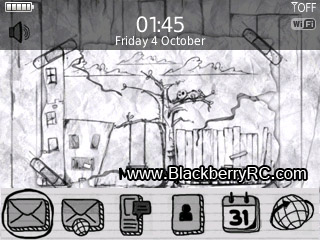 Tag: Doodle Pencil Sketch-up bb Themes
Overview :

free Pencil Sketch-up Doodle 85xx,93xx bb Themes - - This theme will give your device a creative and crafty look. This theme give your device a simple and elegant look. You will also enjoy neat and clean interface of your device with this theme.



The theme support BlackBerry
8500, 8520, 8530, 9300, 9330
running OS5.0
Features:
- Hand drawn HD wallpapers.
- Customized hand drawn creative icons.
- Hand drawn buttons, dialogue box and much more interesting things.

i love the theme it is awesome , extremely fun , great , and so different :)