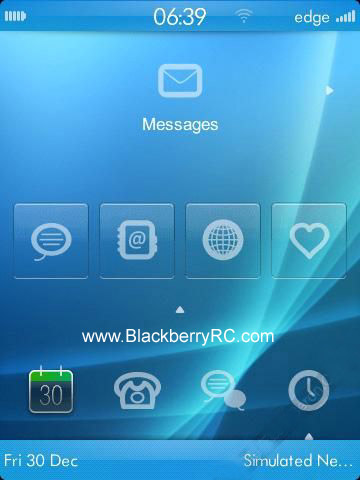 Tag:
Blue
Storm
Wave
Overview :
Blue Wave theme ( 95xx storm os5.0 ) - The new Blackberry theme Wave developed by HedoneDesign , with perfect blue color, simple fashion, no mater Chinese version or English version can be the perfect support.
This was specifically designed for the 95xx series running 5.0
model: storm 9500, 9510, 9520, 9530, 9550(Storm2), 9570(Storm3)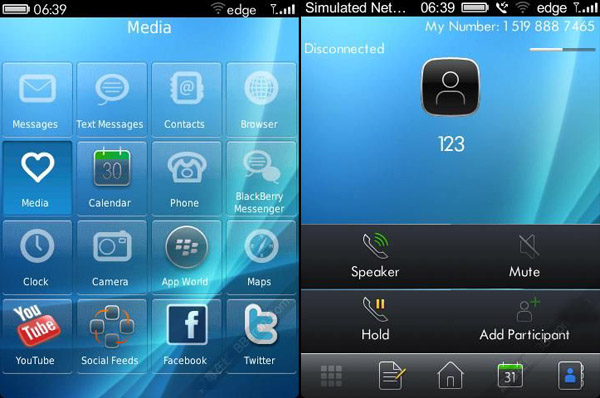 Description:
Did someone said 3D?! You will be drawn in by the home and app screens on this new theme as Hedone Designs has found a way to coax what appears to be a 3D image out of your BlackBerry® (portrait and landscape orientation!). The semi-translucent icons made from bits of cloud appear to float over and through this hi-def wallpaper (especially when scrolling). Highlight an icon and it becomes solid and pops up, so there is no doubt what you've pressed.
Homescreen has a weather slot and four icons in the center, plus a sliding dock on the bottom for the eight icons. These thirteen (my lucky number!) slots are customized to the order of your icons on the app screen. BlackBerry® Bold™ uses 4 icons and additional 8, while BlackBerry® Curve™ uses 5 icons and additional 10.
Use your own wallpaper- the icons have had subtle design tweaks to allow you to fully enjoy your paper while making the most of your screen real estate. The signal meter is a manage connections hotspot.
Unusual blue menu and highlights round out this pleasant theme.
Social scientists have found that certain shades of blue can effect a relaxed state in test subjects. You will get the optimal dose here. Skip your Prozac and go to your Happy Blue Place with Hedone Designs new theme, Wave!

enjoy!!