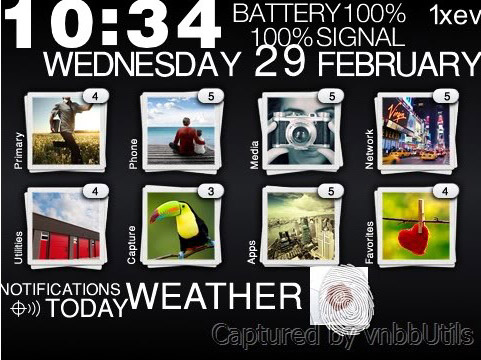 Tag:
bold
9700 themes
Chronic
Overview :
Chronic Theme (89xx,96xx,9700 os5.0 themes) - What sets Chronic apart from everything else is how uniquely designed it is. From the very first glance, Chronic theme proves to show that there is a whole lot more to your BlackBerry homescreen, than the plain default look! See for yourself…let the screenshots do the talking!
size: 1.54 mb
os : 5.0
Model: Blackberry 89XX Curve Series (480*360): 8900(Javelin), 8910(Atlas), 8980
Model: Blackberry 96XX Tour (Niagara) Series (480*360):9600, 9630, 9650(Tour2), 9700(Bold2)


CHRONIC FEATURES:
- 8 Categories
- 8 Customizable Photo Icons
- 27 Quick-Access Photo Icons
- Today Area
- Weather Slot
- Easy Navigation
- Unique Layout Design
- Ultra Smooth Performance
Chronic brings a fresh new perspective of how you look at your device every day!
enjoy!!