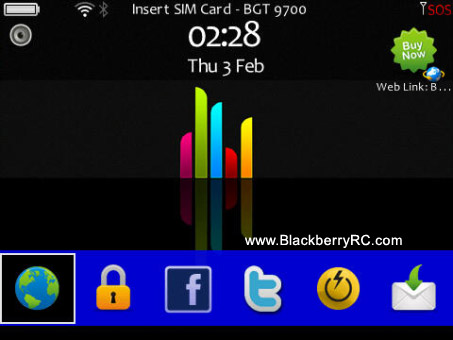 Tag:
bold
curve
tour
BGT Prism
Overview :
BGT Prism Theme (89xx,96xx,9700 os5.0 themes)

Features:
* 9 coloured icon highlight banner on home screen
* Change the colour by pressing - ALT 1 through to ALT 9
* Colours include - white, yellow, green, blue, red, brown, light blue, pink, orange
* You can now match your home screen to your favourite wallpaper
* Quickly and simply switch between colours
** PEARL USERS - click the small icon in top banner to reveal coloured banner - scroll over these coloured squares to change the bottom banner colour - Scroll up to small icon again and the banner colour will remain.
* All new custom icon set
* Grey, blue and orange colours used for menus, buttons, cursors etc
* Standard zen layout on all devices
* Added top corner app slot on all devices
* This is perfect for your favourite weather app
* Available for all os6 ready devices
* Small file size for speed
* Unisex theme - can pick and choose your colour scheme to match your personality


It is suitable for OS 5.0.0 for 89xx, 96xx, 97xx series. size: 1130 kb. Hope you will like it.
Model: Blackberry 89XX Curve Series (480*360): 8900(Javelin), 8910(Atlas), 8980
Model: Blackberry 96XX Tour (Niagara) Series (480*360):9600, 9630, 9650(Tour2), 9700(Bold2)
enjoy!!