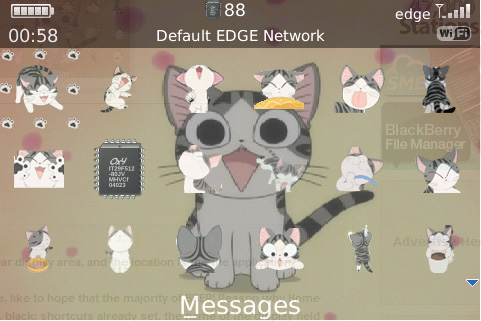 Tag:
cat
bold
9000 themes
Overview :
free Cartoon Cat for blackberry 9000 bold themes
Model:
Blackberry bold 9000

Description:
Small icon of the pier above weather or Lunar display area, and the location is the the application interface eighth position!
Home Interface black imitation OS6 interface, like to hope that the majority of BBER! Reason why Home did not set the name of the icon display bar, black: shortcuts already set, the name of the display field furnishings, to what applications a shortcut to get!
Shortcuts:
$ = SMS
k = lock screen
w = Connection Management
f = Profiles
i = hide the pier, the return key to display the pier
z = music
x = multimedia
7 = Video
8 = Image
9 = video camera
K = camera
0 = download folder
1 to 6 = first line application
W ~ U = second line application
S ~ J = line application
Z ~ N = fourth line application