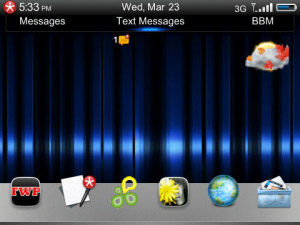 Tag:
Pootermobile
Elevate
Overview :
free Elevate for blackberry os5.0+ themes by Pootermobile
author: theworldofpootermobile.com
Description:
- FREE for a limited time! Was $3.99 -
A very cool dock for this new theme might look like any old bottom dock, but by simply clicking the spacebar or touch/click of the screen the dock "elevates" to reveal your calendar area. Very fun and functional at the same time. There is also a small dock on the top banner with three fixed icons (Messages, Text Messages, BlackBerry® Messenger). And if you forget how to work the theme when you first load up the theme TWP's mascot Poots will help you out with some instructions on the screen.
Bottom dock (6 icons for keyboard devices, 5 icons for touchscreen devices, 5 icons for BlackBerry® Style™/Pearl™ 91xx)
Hidden today calendar area
Hidden top dock with three fixed icons. Click the red dot on the top left corner to show, click again to hide (Messages, Text Messages, BlackBerry Messenger)
Weather slot - must have a paid or free weather application on the first spot in your applications screen
No carrier
Transitions throughout
Homescreen landscape mode NOT supported for touchscreen devices