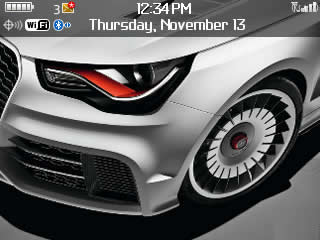 Tag:
93xx
Audi
curve 85xx
Overview :
Audi A1 Clubsport quattro themes for blackberry curve 8520,93xx model
Model:
Blackberry 8350i (320*240) Related Devices Model: 8500, 8520, 8530, 9300
Description:
This BlackBerry theme is designed with the new conception car Audi A1 clubsport Quattro. Audi A1 clubsport Quattro is famous for its power for the one-off hatch comes from a 2.5 liters TFSI turbocharged 5-cylinder engine making 503-hp with a maximum torque of 486 lb-ft. Maximum power is available between 2,500 and 5,300 rpm. Mated to a 6-speed manual transmission and quattro permanent all-wheel drive. The Audi A1 clubsport quattro can go from 0 to 62 mph in just 3.7 seconds and 0 to 124 mph in just 10.9 seconds. 50 mph to 74 mph in fourth gear takes just 2.4 seconds. Top speed is electronically limited at 155 mph.