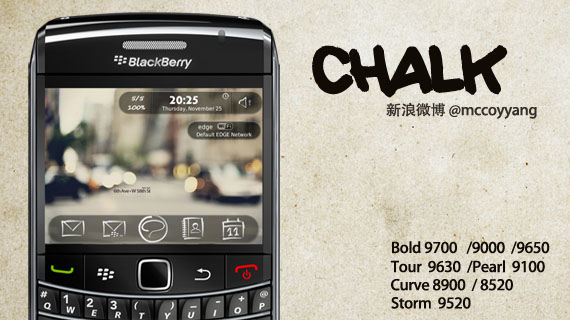 Tag:
curve
85xx
8520 Themes
93xx
Chalk
Overview :
Chalk for Blackberry Curve 8520 Themes free download
Model :
Blackberry 8350i (320*240) Related Devices Model: 8500, 8520, 8530, Curve 9300 3G, Curve 9330 3G


Description:
Animation Chalk it as simple as chalk, only for the simple life!
Modern people's lives become increasingly rich and varied. Just as we can enjoy food, to appreciate the beauty of the same. Dazzling, dizzying! But when we see too much, have too much, often we will be back to nature, longing for that touch of simple, quiet life. A white paper, a pen, a man sitting on the beach, gently Sasa outline that simple happiness!
Shortcuts to:
Recording - $
Camera - G
Clock - R
SMS - H
Music - Z
Multimedia - X
Download - the number 0
Network Connection - W
Profiles - F
Subject details and description of the problem:
Percentage of electricity use figures that theme! When fully charged the white font, less than 20% orange, less than 10% of red! Charging for the blue!
To move the icon to use in the background will become a four-way arrow icon before moving.
Home network module corresponds to the top of the Triggering network configuration options, the time corresponding to the alarm clock options, the corresponding power setting options!