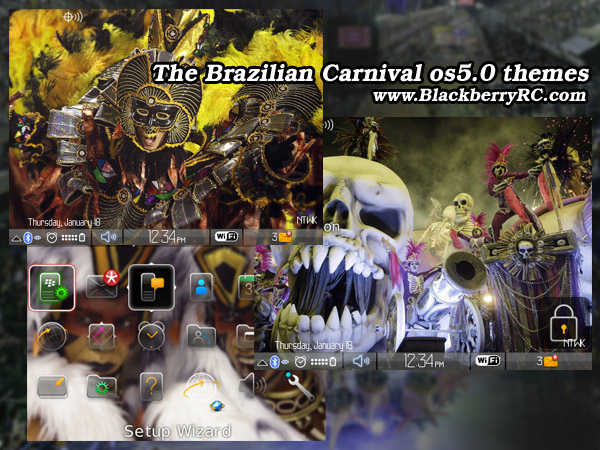 Tag:
bold
curve
tour
Brazilian
Carnival
Overview :
The Brazilian Carnival os5.0 themes
Hope you will like this BlackBerry theme. It is suitable for OS 5.0.0 for 89xx,96xx,97xx series.
Compatible Devices :
Model: Blackberry 89XX Curve Series (480*360): 8900(Javelin), 8910(Atlas)
Model: Blackberry 96XX Tour (Niagara) Series (480*360):9600, 9630, 9650(Tour2), 9700(Bold2)
made by blackberryRC.com
Please donate for this theme if you like it. Donations

The Enthusiastic Brazilian Carnival
The annual Carnival in Brazil is a unique festival. It is also the most important ethnic celebration. It comes between the end of February and the beginning of March every year. Hundreds of thousands of tourists from overseas were attracted to join the feast of rejoicing, which involves flamboyant1 costumes, sexy Brazilian girls and passionate Samba dance.
The earliest Carnival dates back to 1641, when the colonial rulers implemented a decree2. According to it, people would be encouraged to parade, dance and drink unrestrained to celebrate the birthday of the Portuguese King. More than three hundred years later, the Carnival has become the most important folk festival of Brazil.
On February 24th of this year, the "King Momo" dressed in bright orange, took the gold key of the city from the mayor3 of Rio De Janeiro, to signify the beginning of Carnival. During the following five days, the "King," who plays a leading role in the Carnival, would throw out all daily routines, so that people could indulge4 themselves. The "King Momo" this year was a 33-year-old architect. His name was Alex de Oliveira.
"King Momo" is also known as "the King of Carnival." He is hand-picked by Rio residents. There was once a rule that required the "King" to weigh no less than 100 kg. Today, there is a rule that the "King" shouldn't be heavier than 130 kg.
The main "course" of the carnival is the Samba dance. Months before the Carnival, some professional Samba schools will set out to compose music, rehearse5 dances and design costumes according to the current theme of the Carnival.
The Carnival is highlighted6 with the Samba competitions, where every Samba school would send thousands dancers to participate. Every school has 90 minutes to demonstrate their performance and have them graded by experts. The winner is given one million US dollars. Generally the tickets for the Samba competition would be sold out a month in advance.
Seven hundred thousand tourists swarmed the coastal city of Rio De Janeiro for Carnival. Whoever they are—poor or rich, celebrity or ordinary people—they are all just dancers, day and night. Happiness prevails7, while complaints disappear. Countless romantic stories occur during the celebrations, brightening everyone's dull daily life. In order to safeguard Carnival, the Brazilian government dispatched8 25 million free condoms to help prevent the spread of venereal diseases.