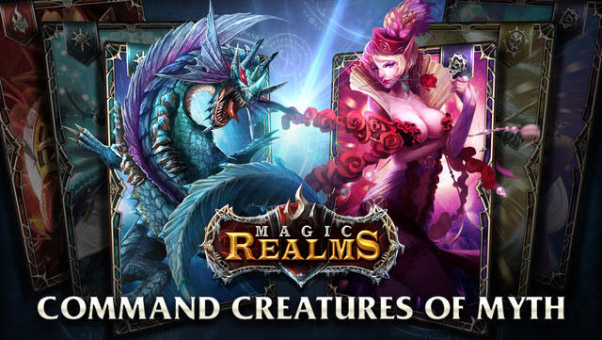 Tag:
Magic
Realms
Overview :
Magic Realms 1.7.3.7 for blackberry passport games
Magic Realms is a free-to-play TCG Strategic battle game. With over 200 cards and runes to choose from, assemble your deck and put it to the ultimate test.
Play against your friends and challenge random players to hold the prestige of having the most powerful deck ever created.
"More strategic than most TCG I have played" (Bruce, California)
"Remind me of Magic the Gathering, better than Rage of Bahamut" (Thierry, France)
5/5 "…I have never found another tcg or tcg-esque game that I would play and I swear I'm addicted."
5/5 "Very fun to play and highly addictive. One of the best card game apps I've ever played"
Enchant Monsters and Runes to unlock their full potentials. Join the Northern Alliance and fight against the Scarlet Nation to restore peace to the Magic Realms! PLAY NOW!
Features
-More than 200 different cards to choose from!
Build the best deck you can to beat over 250 unique challenges!
-Over 80 stages to beat!
Leave your mark across the four kingdoms and even unlock bonus levels and dungeons!
-Enchant monsters and runes for a stronger deck!
Boost the health and attack attributes of your cards and unlock new abilities to turn the tide of battle!
-Daily login rewards!
Get free gold and gems just for logging in! Keep it up, and get a super rare card!
-Ranked matches to see where you stand against the top players across the globe!
Put your deck to test! Improve your deck to reach the top!
-Battle replays!
See how other players have beaten the toughest challenges and study their deck build!
-Draft battle PVP!
Advance through challenges with random deck of cards! Feeling lucky?
-A game constantly updating with new features and new cards!
Magic Realms continues to grow! Will you be a part of the action?
Supported Devices:
BlackBerry Passport
BlackBerry Q10
BlackBerry Q5
BlackBerry Z10
BlackBerry Z30
Porsche Design P9982
Porsche Design P9983