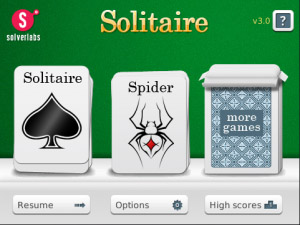 Tag:
99xx
Solitaire
SolverLabs
9981 games
Overview :
Free Solitaire v3.3.1 for blackberry games
OS 5.0,6.0,7.0
size: 2.97 MB
model: Pearl 9100 3G, Pearl 9105 3G, Curve 8520, Curve 8530, Curve 8900, Curve 8910, Curve 8980, Bold 9000, Curve 9300 3G, Curve 9330 3G, Tour 9630, Bold 9650, Style 9670, Bold 9700, Bold 9780, Bold 9788, Curve 9350, Curve 9360, Curve 9370, Storm 9500/9530, Storm2 9550/9520, Torch 9850/9860, Torch 9800, Curve 9380, Bold 9790, Torch 2 9810, Bold 9900/9930, 9981

Description:
The game allows you to play the most popular solitaire games - Solitaire (Klondike) and Spider.
Solitaire (Klondike) :
Solitaire is the most popular card game in the world. In Solitaire, the player attempts to sort a 52 card deck by suit and in order into four piles of cards known as foundations. Cards can be moved between the columns, or to the foundations. The cards in the columns must be built down (from King to Ace) alternating color. When the player gets stuck he can click on the deck in the top left of the game screen. This will deal 3 or 1 cards (depending on settings) at a time onto the waste pile.

Spider (from v3.0, available only for smartphones) :
The second most popular card game is Spider. The objective of the spider solitaire is to build cards of descending one suit sequence from King to Ace within the tableau columns. When such a sequence has been formed, it is automatically collected to one of the 8 foundations. When all 104 cards have been played to the foundations as eight separate King to Ace sequences then the game is won.

FEATURES:
- EXCLUSIVE algorithm that increases chances of successful game finish
- Drag and drop cards (only for touch devices)
- Unlimited hints
- Unlimited undoes
- Auto-collect to the foundations
- Keyboard shortcuts for most used menu items (only for devices with keyboard)
- Cards movement animation
- Moves autosave
- Timed scoring system
- High scores
- Enable/disable animation, show/hide timer, enable/disable part of stack selection
- Appearance customization (Choose among several different card shirts, card faces and awesome backgrounds)
- Change score type, amount of cards to reveal
- Change difficulty
- SERIOUS ADDICTION!