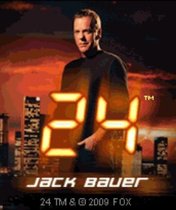 Tag:
8xxx games
24 Jack Baue
Overview :
24 Jack Bauer for 8xxx games download
Model:
Blackberry 8350i (320*240) Related Devices Model: 8500, 8520/Blackberry 83XX Series (320*240) Curve Devices Models: 8300, 8310, 8320, 8330 / Blackberry 87XX Series (320*240) Devices Models: 8700c, 8700r, 8700f, 8700g, 8703e, 8707, 8707g, 8707v .etc /Blackberry 88XX Series (320*240) Devices Models: 8800, 8820, 8830 .etc
Description:
Jack's back to tackle an all-new threat! Step into Jack Bauer's shoes in 24 suspense-packed episodes of '24' action. Confront attackers, fight helicopters, drive vehicles & much more in an intense day full of authentic adrenaline-packed '24' adventure. Go to the edge of disaster as you defuse bombs, break codes and chase cars in the ultimate '24' experience!