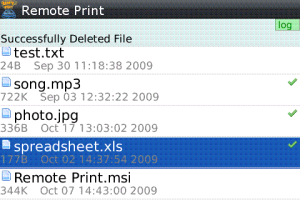 Tag:
Remote Print
Overview :
Smartphone: 4.5.0 or higher
Model:
Blackberry 89XX Curve Series (480*360): 8900(Javelin), 8910(Atlas), 8930, 8950, 8980/Blackberry 90XX Bold (Onyx) Series (480*320) Devices Models: 9000, 9020(Onyx)/Blackberry 96XX Tour (Niagara) Series (480*360):9600, 9630, 9650(Tour2), 9700(Bold2), 9780, Dakota, Apollo /Blackberry 95XX Storm Series (360*480):9500, 9510, 9520, 9530, 9550(Storm2), 9570(Storm3), 9800(Torch), Torch2/Blackberry Pearl 3G Series (360*400) Devices Models: 9100, 9105, 9670(Style)/Blackberry 99XX (OS 7.0) Series (640*480) Devices Models: 9900, 9930, 9981

Description:
**Final Push to App World Top Ten Special - help us get there for only $4.99 (usually $12.99)**
The Best Selling Print App on App World - Now available for Storm1 and Storm2!
(Tour and Storm1 do not have WiFi, so can only use BES connection)
A BlackBerry® first - Remote Print for BlackBerry allows you to wirelessly print almost any file from your device including emails, photos, PDF, Excel, Word, address contacts, memos, all Office documents and more! If you can print it from your PC, you can print it with this application! Remote Print also lets you send files from your BlackBerry wirelessly to your PC.
ANY printer, ANY wifi network, ANY file that you can normally print from your PC.
How can I use Remote Print?:
- Receive an email and print it off in 3 clicks.
- Print out contacts and memos saved on your BlackBerry.
- Receive an attachment, download it and print it out all from the BlackBerry.
- Take a photo on your BlackBerry and print it out in a few clicks.
- Send any file or whole folders from BlackBerry to PC at WiFi speeds.
- Print over WiFi or through BES.
How it works:
Remote Print is made up of two parts: the BlackBerry application, and a simple lightweight PC application – the Print Server (Mac is currently not supported).
After installing the Print Server and setting up a connection to the BlackBerry, you will be able to print to any printer installed on the PC direct from the BlackBerry. You will also be able to send files directly to this PC from the BlackBerry.
You can install the free Print Server on as many PCs as needed, and make connections to all of them.
Features:
* Works with any printer that is installed on your PC, including Wireless, Cable and Network printers.
* Native integration into BlackBerry email, address book and memo applications for quick printing direct from the menu bar.
* Inbuilt file explorer to select files or whole folders for printing/sending.
Minimum Requirements:
PC and WiFi network or BES.