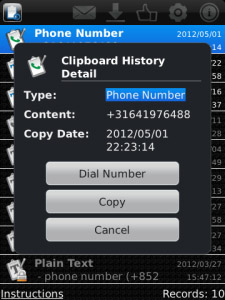 Tag:
99xx
s4bb
97xx
98xx
clipboard
History
Overview :
Free Clipboard History v1.0.7 for os6.0-7.0 apps
size: 982 KB
model: Pearl 9100 3G, Pearl 9105 3G, Curve 9300 3G, Curve 9330 3G, Bold 9650, Style 9670, Bold 9700, Bold 9780, Bold 9788, Curve 9220, Curve 9350, Curve 9360, Curve 9370, Torch 9850/9860, Torch 9800, Curve 9380, Bold 9790, Torch 2 9810, Bold 9900/9930, 9981
Description:
Want to be able keep track of the content you copy or cut? With Clipboard History you can go back and retrieve content you have copied or cut before. This is compatible with your Messages, Browser, Email, BBM™, and other third party applications. You can access the clipboard history through the menu in any application by simply scrolling to and highlighting "Clipboard History".
Features:
- History of up to last three clipboard content copied or cut
- Easy to paste content
- Compatible with many apps
- Accessible from all apps through the menu button
- Easy to use
This is a BBM™ connected app. Let your friends know you are using this app through your status update!
If you like Clipboard History Free please write a review. Thanks.
This product comes with a 30 day value back guarantee. More info: http://s4bb.com/returnpolicy.