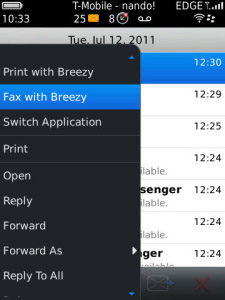 Tag:
Print
Breezy
Fax
Overview :
Breezy - Print and Fax v1.4.0 for blackberry apps OS 5.0,6.0,7.0
size: 190 KB
model: Pearl 9100 3G, Pearl 9105 3G, Curve 8520, Curve 8530, Curve 8900, Curve 8910, Curve 8980, Bold 9000, Curve 9300 3G, Curve 9330 3G, Tour 9630, Bold 9650, Style 9670, Bold 9700, Bold 9780, Bold 9788, Curve 9350, Curve 9360, Curve 9370, Storm 9500/9530, Storm2 9550/9520, Torch 9850/9860, Torch 9800, Curve 9380, Bold 9790, Torch 2 9810, Bold 9900/9930, 9981

Description:
Breezy is the fastest, easiest and most secure way to print or fax any email or attachment from your BlackBerry® to any printer or fax machine. Only Breezy covers you *anywhere* - at home, at work or on the road via the Breezy Partner Network.
Breezy integrates with your BlackBerry®'s menu so that you can any email or its attachment simply by selecting "Print with Breezy" from the menu. (Or "Fax with Breezy" to send a fax.)
Key advantages:
*Unlimited printing to your own printers
*Print on the go with the Breezy Partner Network - select "Nearby Printers" to see a list of printers near you. (Some partner locations may charge per page; others to not.)
*Anything you can print, you can fax! (Requires purchase of Breezy Credits from within the app.) The fax feature integrates with your address book for easy access to fax numbers.
*No IP address or firewall configuration hassles - setup takes just minutes, and once done you can print in seconds
*Print from anywhere your BlackBerry® has internet access - no need to be within 30-foot radius of printer
*Breezy works with practically every printer ever made - just create your account, install the free Breezy Connector on your PC and add the printer to your account, and you're ready to go.
*Completely secure, protected by end-to-end encryption
*Free version supports all MS Office and PDF file types, with support for hundreds of additional file types available for premium users.
*No extra software (other than Breezy Connector) required - e.g., you can print Powerpoint files without having Powerpoint installed, etc.
* If your company runs a Breezy Enterprise Connector, you can print to any of your company's printers without installing anything on your own computer.
**Requires Breezy Connector for your PC (available free at www.breezy.com) in order to add your own printers.**
Customers call Breezy "fantastic" and "amazing", say it's saved them "a ton of time", and praise our "GREAT customer service." You'll love it!

If you like the app, Please share to your friends!