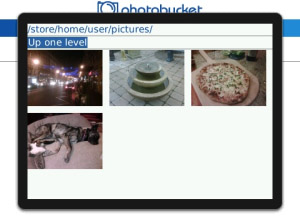 Tag:
9300 apps
Photobucket
Overview :
free Photobucket Mobile v2.2.0 applications for blackberry
Required Device Software
5.0.0
Supported devices:
Blackberry 89xx, 90xx, 91xx, 93xx, 95xx, 96xx, 97xx


Description
Take Photobucket with you on your BlackBerry! Automatically upload pictures from your phone directly to your Photobucket albums. Looking for entertainment during moments of downtime? Check out our Find Stuff categories or search our billions of photos. Easily download images to your device for use as wallpapers, contact IDs and more. View your Photobucket albums and show off your collection.
With Photobucket Mobile you can:
* Search Photobucket's huge media library
* Download any Photobucket image directly to your phone
* Automatically upload photos in the background as soon as they're taken
* View all your albums
* Delete images from your albums
* Share images via email
* Copy image links to the clipboard for use in other applications
* Copy photos you find directly to your album
* Pause the upload queue and resume when your signal improves, or your airplane lands
* Change settings to adjust the default title and description for uploaded images
Make Photobucket Mobile even better! Tell us what you think about the application and what we can do to improve your experience. We value your feedback and feature requests.