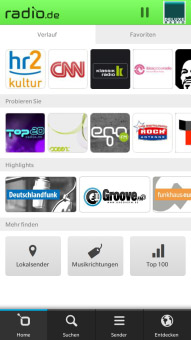 Tag: rad.io
Overview :
A radio software -- rad.io, take a good name, icon is also very good to see. A very fine radio software, and the number of radio stations a lot.



Supported Devices:

BlackBerry Q10

BlackBerry Q5

BlackBerry Z10

BlackBerry Z3

BlackBerry Z30

Porsche Design P9982

Description:

The entire world of radio in one app – Listen to more than 10.000 radio stations, internet radios and podcasts – easy, whenever and wherever.

AT ONE GLANCE:

- Free

- Over 10.000 stations

- Local stations from your region

- Editorial recommendations

- Categorical search: genre, topic, city, country

- Title information

- Save radios as favorites

- Similar stations

- Sleep timer

- Multitasking

THE RAD.IO APP IS…

WELL ORGANIZED

Use the rad.io features to sort radio programs by top 100, genre, topic, city, country or language and find out what is on air at the moment. Directly view which station plays which song at the moment.

With additional search functions, you can now also sort your stations according to various criteria.

WELL STRUCTURED

From the home screen you can directly reach all features of the rad.io app: The station you heard last, editorial recommendations, your individual favorites, stations from your current region, the top 100 or the entire station list.

INDIVIDUAL

Save your favorite stations and get personal recommendations fitting your taste in music. You can access your favorites via the website and in the app.

LOCAL

Directly access stations from your current region.

PUNCTUAL

With the sleep timer you can go to sleep listening to your favorite station. Just select a station, set the sleep timer and relax.

MULTITASKING

Listen to the radio and simply use other apps or browse through the internet at the same time.

WORTH HEARING

Read our rad.io recommendations and discover new radio stations now and again. Choose from classical stations like 181.fm – The Beat, Capital FM or triple j, online radio stations like .977 – The Hitz Channel and 1.FM – Top 40, genres like 80s, Rock, Jazz or Classic, or pick a topic like news, sports, culture or comedy.

Under "Users of this station also listened to", we will also now be showing you new stations that correspond to your taste. Turn on your favorite station and allow yourself to be inspired.

If you have questions or suggestions our support team will be glad to help you: support@rad.io. Please notice that developers cannot comment on reviews in BlackBerry® World.