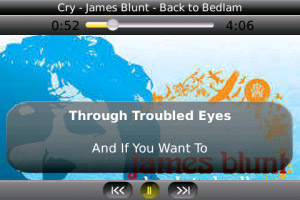 Tag:
TuneWiki
Lyrics
Overview :
TuneWiki v1.2.6.3 - Lyrics with Music for blackberry apps
OS 4.6, 4.7, 5.0, 6.0, 7.0
Model: Pearl Flip 8220, Pearl Flip 8230, Pearl 9100 3G, Pearl 9105 3G, Curve 8520, Curve 8530, 8800, 8820, 8830, Curve 8900, Curve 8910, Curve 8980, Bold 9000, Curve 9300 3G, Curve 9330 3G, Tour 9630, Bold 9650, Style 9670, Bold 9700, Bold 9780, Bold 9788, Curve 9350, Curve 9360, Curve 9370, Storm 9500/9530, Storm2 9550/9520, Torch 9850/9860, Torch 9800, Torch 2 9810, Bold 9900/9930

Description:
TuneWiki is a revolutionary new way to experience your favorite music on your BlackBerry®. TuneWiki's social media player provides you subtitled lyrics to 3 kinds of music: 1. The music in your stored library, 2. Music Videos that you can watch on your device, and; 3. Internet Streaming Radio through SHOUTcast™ radio. As you play music, lyrics scroll on the bottom of the screen. You can also search for lyrics to over 2.5 Million songs. Use Music Maps and real time Top 50 charts to see what people are listening to around the world and to discover new music!
Other features include creating your own playlists of songs to listen to, searching for lyrics to your favorite songs, and communicating what you're listening to via Facebook and Twitter integration.
Users can also purchase an 'ad free' version inside the application.