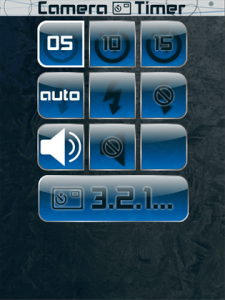 Tag:
Camera Timer
Overview :
Camera Timer v1.1.8 (os5.0+) for blackberry bold applications
Required Device Software
5.0.0 or higher
Description
Have you ever wished for a way to delay taking a photo on your BlackBerry® device? Camera Timer is an easy to use, convenient way to time the perfect picture. Like the camera timers that come with many modern cameras, you can choose to take a picture with a delay. Simply set the timer, make sure your BlackBerry® device is steady, then wait for the picture to be taken!
Delay the shot to get the perfect picture, you can now make sure everyone is ready for the photo before it is taken! Select between three different timing options for the delay to suit your situation, you can also adjust the camera flash and the audio countdown. You may also turn off the audio countdown if you so desire.
Features:
- Accurate delay timer (5, 10, or 30 seconds)
- Option for flash during photo
- Auditory warning / countdown to photo
If you like Camera Timer please write a review. Thanks.
This product comes with a 30 day value back guarantee. More info: http://s4bb.com/returnpolicy.