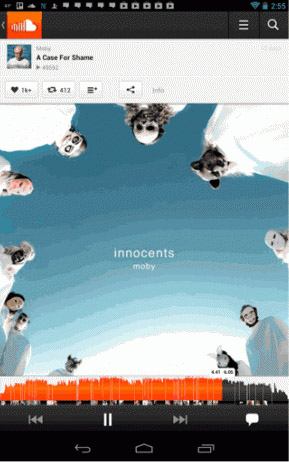 Tag: BB10 SoundCloud
Overview :
SoundCloud is a social networking applications that allows the user to use android devices to record any sounds, and quickly send audio to Facebook, Twitter, bursts, Foursquare and so on. At present, the SoundCloud has been updated to 2.6.1, friends can download to updates and installed.



Version: 2.6.1




size: 6.2 mb

Model:

Blackberry 10 Devices: Blackberry Dev Alpha, Blackberry Z10, Blackberry Z15, Blackberry Z30, Blackberry A10, Blackberry Q30, Blackberry Q10, Blackberry Q5

Description:

Hear fresh tracks from the world's largest community of musicians, bands, producers and audio creators of all types. Play great free music straight from the cloud.

SoundCloud for BlackBerry Playbook

SoundCloud is the world's leading social sound platform, with over ten hours of music & audio posted every minute. Tap into a world of fresh new audio; find and listen to new songs, remixes, comedy, news and more. With the SoundCloud app for Android, you can hear anything, wherever you are. All of the great music & audio on SoundCloud is free to listen to, with no ads and no monthly payment plan required.

Key features:

Google+ Sign-in and share!

Search and discover new music & audio for free

Discover and follow diverse music & audio creators

Listen to sets (collections of tracks), or create your own playlists and share them with your followers

Listen to a stream of new tracks wherever you are; streaming audio playback over WiFi or cellular data connection

Record your own sounds with one touch and share to Facebook, Twitter, and Tumblr

Includes optional Record Widget for the homescreen

Lockscreen playback supported (play, pause and skip tracks without unlocking the screen)

How to use SoundCloud:

SoundCloud brings you the very best new music & audio direct from the creators themselves. Find and follow your favourite bands, singers, DJs, producers, radio stations and podcasters so that their latest tracks, sets and recordings appear in your stream.