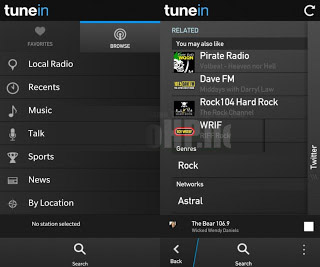 Tag:
Radio
TuneIn
Overview :
TuneIn Radio Pro v8.0 for your blackberry 10 - TuneIn Radio Pro adds the ability to record everything you love from TuneIn Radio.
Version: 8.0
File Size: 7.6 MB
Required: BB10 Smartphone OS 10.0.0 or higher
Model:
Blackberry 10 Devices: Blackberry Dev Alpha, Blackberry Z10, Blackberry A10, Blackberry Q10, Blackberry Q5
Description:
TuneIn lets you listen to the world's radio with music, sports, news, talk, and comedy streaming from every continent. Enjoy 70,000 live radio stations and 2 million podcasts, concerts or shows on your Android phone or tablet.
Already a TuneIn listener? TuneIn Radio Pro is fully integrated with tunein.com, so just log in to enjoy your Favorites right from your BlackBerry 10