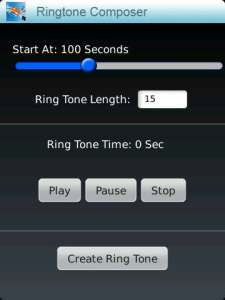 Tag:
Ringtone
Composer
Overview :
Ringtone Composer v1.620.0 for blackberry apps
OS 5.0,6.0,7.0
Model : Pearl 9100 3G, Pearl 9105 3G, Curve 8520, Curve 8530, Curve 8900, Curve 8910, Curve 8980, Bold 9000, Curve 9300 3G, Curve 9330 3G, Tour 9630, Bold 9650, Style 9670, Bold 9700, Bold 9780, Bold 9788, Curve 9350, Curve 9360, Curve 9370, Storm 9500/9530, Storm2 9550/9520, Torch 9850/9860, Torch 9800, Torch 2 9810, Bold 9900/9930

Description:
Whether you're a head-banger, or a lover of Mozart, JaredCo's Ringtone Composer simplifies the customization of your smart phone ring tone with your favorite music.
• Simply choose any MP3 tune in your BlackBerry® music archives.
• Create the start points and the length for the ringtone of your favorite concerto with two clicks. In Free version you can create 3 completely customized ringtones.
• After your 3rd ringtone you will only be able to create ringtones from the start of a song and that last for 15 seconds. Pro version will continue to give you complete customization.
• Once you've created your glam-rock ringtone, save it with a couple of clicks so each time you connect, your favorite rocker announces the call.
• There's no re-configuring required. Just download and access your favorite music using Ringtone Composer from JaredCo.
• And last, but not least – the RINGTONE COMPOSER IS FREE. Totally free.
• Save and swap tunes daily, hourly if you want to play DJ. Ringtone Composer de-hassle-izes creating ringtones from your music collection. No sweat and your ringtones sound cool.
At JaredCo, we always keep things simple so you get more use out of your smart phone. Ringtone Composer adds some fun to each incoming call coming your way so download today and start listening to your own top 10 each time you're contacted.
And like all JaredCo apps, we design them, we make them and we support them.