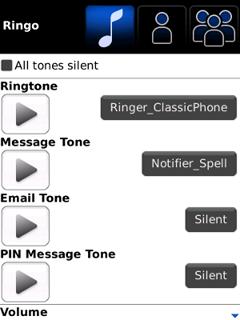 Tag:
95xx apps
storm apps
Ringo
Overview :
Ringo Mobile v1.7 for blackberry os4.2+ apps
Required Device Software:
4.2.0 or higher
Supported devices:
Blackberry 82XX Series (240*320) Pearl Flip Devices Models: 8200, 8220, 8230/Blackberry 8350i (320*240) Related Devices Model: 8500, 8520, 8530, 9300(Kepler), 9330/Blackberry 83XX Series (320*240) Curve Devices Models: 8300, 8310, 8320, 8330 / Blackberry 87XX Series (320*240) Devices Models: 8700c, 8700r, 8700f, 8700g, 8703e, 8707, 8707g, 8707v .etc /Blackberry 88XX Series (320*240) Devices Models: 8800, 8820, 8830 .etc /Blackberry 89XX Curve Series (480*360): 8900(Javelin), 8910(Atlas), 8930, 8950, 8980/Blackberry 90XX Bold (Onyx) Series (480*320) Devices Models: 9000, 9020(Onyx)/Blackberry 96XX Tour (Niagara) Series (480*360):9600, 9630, 9650(Tour2), 9700(Bold2), 9780, Dakota, Apollo /Blackberry 95XX Storm Series (360*480):9500, 9510, 9520, 9530, 9550(Storm2), 9570(Storm3), 9800(Torch), 9810/9850/9860(Torch2)/Blackberry Pearl 3G Series (360*400) Devices Models: 9100, 9105, 9670(Style)/Blackberry 99XX (OS 7.0) Series (640*480) Devices Models: 9900, 9930
Description:
Setting different tones and LED colors for friends and contacts has never been easier - Ringo lets you choose a custom MP3 ringtone, SMS message tone and email tone and flashing LED color for your special contacts. With Ringo you can instantly hear or see a call from your girlfriend, a message from your boss - or block out calls, emails and texts from unknown callers.
Ringo lets you easily use your favorite music or sound clip as a ringtone, email or message alert - bringing your BlackBerry to life, every time it rings. Ringo's easy interface makes it simple and fun to change your BlackBerry tones, and set personal tones for your special contacts and groups.
If you use your BlackBerry Address Book to organize your contacts into categories, then you'll love Ringo's Caller Groups capabilities. Ringo lets you quickly and easily set a unique ringtone, email tone and message alert for each category in your Address Book, so you can set different tones for personal or business calls - or silence one group with a single tap. Its a great way to make sure your friends don't disturb you in meetings, or the boss won't bother you at the weekend!
Product Features:
Easily set personalised MP3 ringtones, text & email tones
Set custom tones for friends & groups
Set custom flashing LED colors for friends, groups and alerts.
Silence or Block unwanted calls, texts and email
Do Not Disturb mode for privacy