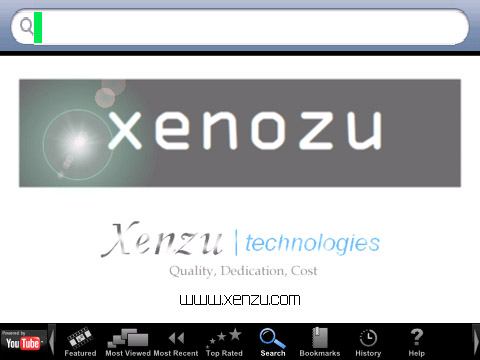 Tag:
YouTube
96xx
9700 apps
Xenozu
Overview :
Xenozu Youtube for 96xx, 9700 apps
Model:
Blackberry 96XX Tour (Niagara) Series (480*360):9600, 9630, 9650(Tour2), 9700(Bold)
Description:
Xenozu is a hot new application for viewing YouTube videos. Yes you can already view YouTube videos on your BlackBerry, but this takes them to a whole new level.
It has a bottom tab with icons including Featured, Most Viewed, Most Recent, Top Rated, Search, Bookmarks, History, & Help. In addition, the app includes its own media player to play the videos you select.
Made to look like the iphone platform (yes I said that) it makes watching those videos so much sweeter.
It's free to download and run, however it looks like you can only get it in the beloved BlackBerry App World. So be sure and download that too.