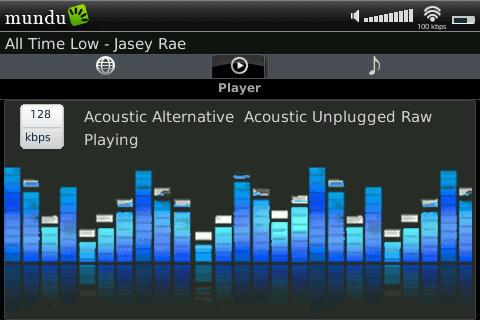 Tag:
Radio
storm apps
Mundu
Overview :
Mundu Radio for 9500 storm apps

Description:
Unlimited radio stations
Access to dozens of pre-defined Digital Radio stations across all popular categories – Pop, Rock, Classical, Bollywood, Instrumental, Country, Hip-Hop and many more.
Personal play list
User defined play lists – Create your personal playlist and update it on your device if you have changed it on the server.
Get Lyrics
Not only hear but sing along your favorite song. Use the exclusive Get Lyrics option to get the lyrics of a particular song. If the application is able to find the lyrics, it will display in the Lyrics tab. You can store/delete the lyrics in the Manage Lyrics tab.
Play Mp3 stored in your handset
Mundu radio provides options that help you play local mp3 stored on your device. The user shall have the option to get lyrics for the stored mp3 song as well.
Invite your friends
Why not let your friends enjoy it too! Invite all your contacts to use mundu radio via sms.
Search
mundu radio provides an option to search station or genre from the playlist.
Easy to use
Tab based UI has been designed specifically for moving seamlessly across the application.
Seamless integration with Blackberry functions
Seamlessly switch to mundu radio from any other application (browser, mail, sms…) on your mobile. There will be a menu option available as "Open mundu radio".
Recent List
The Recent List feature captures the recently played stations, local music, and music played from a URL. You can limit the number of entries in the Recent List by making appropriate selections in the Preferences screen.
Favorites
You can add the frequently accessed stations, local music, and music played from a URL to the Favorites List. You can add up to 50 stations to this list. You can also add/delete a station from the list.
Data monitor
The Data Monitor screen appears with the information about the data received and sent.
Immediate connectivity
Quick access to most frequently tuned stations.
Digital Music
High quality MP3 audio playback.
Security
Authentication & Secure Login to the mundu radio service.
Trial Version.
Model:
Blackberry 95XX Storm Series (360*480):9500, 9510, 9520, 9530, 9550(Storm2), 9800(Torch)