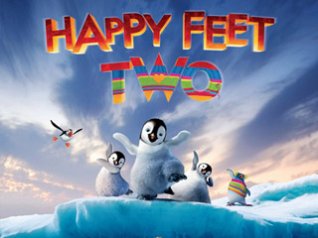 Tag: Happy Feet T
Wallpapers Overview:


Happy Feet Two (2011)
Also Known As: Happy Feet 2 | Happy Feet 2 in 3D | Happy Feet 2 in Sydney | Happy Feet Two in 3D | Happy Feet Two: An IMAX 3D Experience

Logline: Tap-dancing penguin, Mumble and his love Gloria return with their son Erik who is struggling to find his own talents in the Emperor Penguin world. New dangers threaten their nation and everyone must work, and dance, together to save it.

Genre: Animation, Musical/Performing Arts, Kids/Family and Sequel

Starring: Elijah Wood, Pink, Robin Williams, Sofia Vergara, Hank Azaria

Directed by: George Miller

Producers by: George Miller, Doug Mitchell, Bill Miller

Running Time: 1 hr. 45 min.

Release Date: November 18th, 2011 (wide)

MPAA Rating: PG for for some rude humor and mild peril.

Distributors: Warner Bros. Pictures

Plot:

Mumble, The Master of Tap, has a problem because his tiny son, Erik, is choreo-phobic. Reluctant to dance, Erik runs away and encounters The Mighty Sven — a penguin who can fly! Mumble has no hope of competing with this charismatic new role model. But things get worse when the world is shaken by powerful forces. Erik learns of his father's "guts and grit" as Mumble brings together the penguin nations and all manner of fabulous creatures — from tiny Krill to giant Elephant Seals — to put things right.


Choose Your Screen Resolution: 320x240 360x480 480x320 480x360 640x480
This wallpapers for use in the following BlackBerry models:
1440x2560 : blackberry priv
1440x1440 : blackberry passport, Q30, Passport Silver Edition
1280x1280 : blackberry z20, z10, q5, q10, classic, leap
1280x1280 : Blackberry Dev Alpha, A10, Z10, Z30, P9982
1024x1024 : Playbook
720x720 : Blackberry Q10, Q5, Q20, P9983
640x480 : 9900, 9930, P9981
480x800 : 9860 Monza, Storm3 Monaco
480x640 : Torch2 9810
480x360 : 8900, 8910, 8930 Curve2, 8950, 8980, Onyx 9020, 9220, 9350 Sedona, 9370 Apollo, 9600, 9630, 9650, 9650x, 9700, 9720, 9780, 9788, 9790(OS 7)
360x400 : Style 9670, Pearl 3g 9100, Pearl 3g 9105
360x480 : 9500, 9510, 9520(storm2), 9530, 9550(storm2), 9570(Storm3), 9630, 9800, Curve Touch
480x320 : 9000, 9020
320x240 : 8110, 8300, 8310, 8320, 8330, 8350i, 8500, 8520, 8530, 8700, 8700c, 8700f, 8700g, 8700r, 8703e, 8707, 8707g, 8707v, 8800, 8820, 8830, 9300, 9330(Curve)
More BlackBerry Wallpapers all in BlackBerryRC.com

BlackberryRC.com Remind You
Permanent site at BlackBerryRC.com (BlackBerry + RC) Please click it, Add to Favourites visit it next time conveniently!