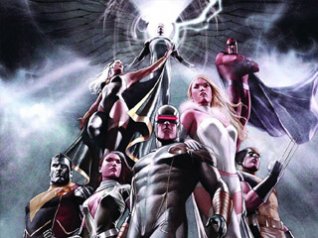 Tag: X-Men 480x360
Wallpapers Overview:


X-Men: First Class (Comic)
X-Men: First Class is a comic book series published by Marvel Comics starring the X-Men.

The original series was an eight-issue limited series. It began in September 2006 and ended in April 2007. It was written by Jeff Parker and penciled by Roger Cruz. It was followed by a special issue in May 2007 and a monthly series that premiered in June 2007 with the same creative team.

Many of the series' stories are done in single issues, some are two-parters and multiple issue arcs. The original team of X-Men are wearing new costumes in the series. The series guest-stars many other characters, such as Lizard, Quicksilver, Scarlet Witch, Man-Thing, Gorilla-Man, Doctor Strange, Invisible Woman and Thor.

The series has spawned a few spin-offs, titles including the ongoing series Wolverine: First Class, and the miniseries Weapon X: First Class.

The ongoing series lasted sixteen issues and it was followed by Giant-Size X-Men: First Class special issue. Starting February 2009, a four issue miniseries titled X-Men: First Class Finals will encompass volume 3. This ends with the team going on to the Krakoa island mission.

A new volume called Uncanny X-Men: First Class premiered in the August 2009 one-shot Uncanny X-Men: First Class Giant-Sized. The new series will concentrate on the team first introduced originally back in Giant-Sized X-Men #1.


Choose Your Screen Resolution: 320x240 360x480 480x320 480x360
This wallpapers for use in the following BlackBerry models:
1440x2560 : blackberry priv
1440x1440 : blackberry passport, Q30, Passport Silver Edition
1280x1280 : blackberry z20, z10, q5, q10, classic, leap
1280x1280 : Blackberry Dev Alpha, A10, Z10, Z30, P9982
1024x1024 : Playbook
720x720 : Blackberry Q10, Q5, Q20, P9983
640x480 : 9900, 9930, P9981
480x800 : 9860 Monza, Storm3 Monaco
480x640 : Torch2 9810
480x360 : 8900, 8910, 8930 Curve2, 8950, 8980, Onyx 9020, 9220, 9350 Sedona, 9370 Apollo, 9600, 9630, 9650, 9650x, 9700, 9720, 9780, 9788, 9790(OS 7)
360x400 : Style 9670, Pearl 3g 9100, Pearl 3g 9105
360x480 : 9500, 9510, 9520(storm2), 9530, 9550(storm2), 9570(Storm3), 9630, 9800, Curve Touch
480x320 : 9000, 9020
320x240 : 8110, 8300, 8310, 8320, 8330, 8350i, 8500, 8520, 8530, 8700, 8700c, 8700f, 8700g, 8700r, 8703e, 8707, 8707g, 8707v, 8800, 8820, 8830, 9300, 9330(Curve)
More BlackBerry Wallpapers all in BlackBerryRC.com

BlackberryRC.com Remind You
Permanent site at BlackBerryRC.com (BlackBerry + RC) Please click it, Add to Favourites visit it next time conveniently!