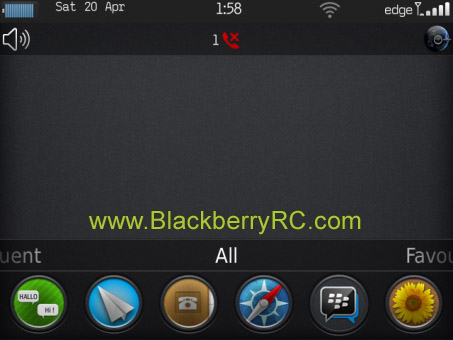 Tag:
Elegance
MiNi
Overview :
Elegance Theme with mini Banner (9800,97xx OS6)
-- Premium theme by Themerzz for 97xx,9800 with much features. Please see below for features.

Features:
-Professional look and Professional design.
-Default OS7 Layout with Mini Banner.
-Simple and bold style with newest icons.
-Wallpaper friendly.
-Custom battery meter
-Newest custom icon set that you never seen before.
-More space for wallpaper.
-Bold and appealing style through out in theme.
-Very wallpaper friendly, fit for almost every wallpaper.
-Semi-transparent menus and dialogues.
-Very clean and responsive.
-Very eye pleasing color scheme for menu and dialogues.
-Almost fit for any wallpaper.
Note:
-Please reboot your BlackBerry Device after installation of theme.
Version: 1.0
File Size: 555 KB
Compatible: BlackBerry 9800, 9650,9700,9780 OS 6.0