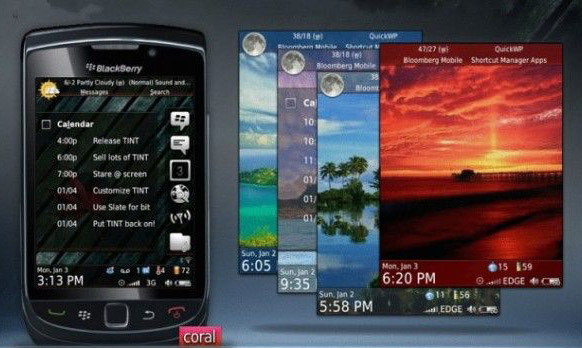 Tag:
Black
torch
Coral
9800 Theme
Overview :
Black Coral 9800 torch theme - Flexible and Functional with a touch of color.
TINT will improve how you use and view your device. With a hideable today area, hideable docks and hideable weather slot, TINT can be a productive workspace or a showcase for your wallpapers.
* Choose from 6 colors and 3 opacity levels on your homescreen!
Unique Features:
* Bbt's Options Panel lets you customize the color of your homescreen!
* Dynamic Today Area allows yoju to switch between Calendar, SMS and Messages!
* 2 hideable docks with up to 14 icons (text and icons)!
* Slick, custom animations on homescreen.
* Everything is skinned for a completely unique experience.
* Fast, flexible and clean!
Today Area
* Trackpad: Swipe right with trackpad from Calendar to access SMS and Messages.
* Storm: Press below last today item.
Torch and Storm Homescreen
* Full landscape support!
* Torch: Spacebar launches the 11th icon on your application page.
* See first screenshots for hotspots used to show/hide elements like the Options Panel!
Non-touch Homescreen Shortcuts
* Bbt's Options Panel: Alt+O (+) to show, Alt+Q (#) to hide.
* Hideable Icon dock: Alt+A (*) to show, Alt+Q (#) to hide.
* Hideable Text dock: Alt+I (-) to show, Alt+Q (#) to hide.
* Use Caps (aA) on letters: O=Options, K=Calendar, N=BBM, M=Messages, $=SMS/MMS, L=Profiles, @=Connections, Spacebar=15th icon on app page