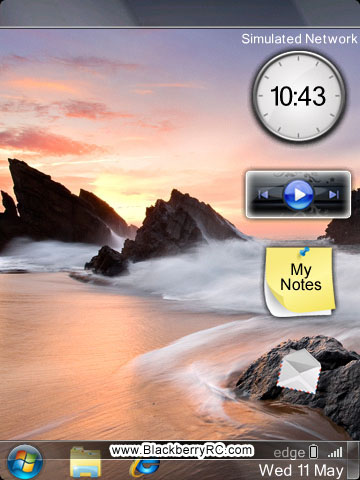 Tag:
torch
9800 Theme
Professional
Win 7
Overview :
free Win 7 Professional themes for torch 9800 download
Win 7 Professional brings you right to your desktop! It is the most realistic Windows 7 theme out there. It all starts with the start bar of course! The start menu has a total of 14 icons, 6 of them are user defined. Also the start bar contains the text of icon 1 perfect for weather apps or Meterberry. Then there is a pop up window. By clicking/tapping the explorer icon in the start bar it brings up that window with 8 user defined icons. This also has icon 1 text for easy viewing of weather or battery percentage from Meterberry. Final the widgets on the right side of the screen are clock, media, my notes, and icon 1 on app screen. You can hide these icon my tapping the notification area on storm. Trackpad devices (X) hides the widgets and (Z) shows them.

It is suitable for OS 6.0.0 for torch 9800 series. size: 1.17 mb . Hope you will like it.
Model: Blackberry torch 9800
enjoy!!