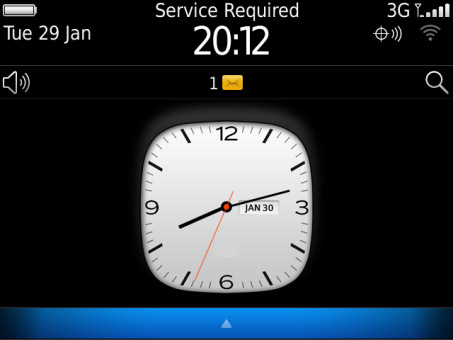 Tag:
BB10
BeClock
Overview :
BeClock Free with BlackBerry 10 style By AlmostDone
File Size: 39 KB
Required Device Software Operating System: 6.0.0 or higher
model:
Blackberry 96XX Tour (Niagara) Series (480*360):9600, 9630, 9650(Tour2), 9700(Bold2), 9780, 9790, Dakota, Apollo
Blackberry Torch Series: 9800(Torch), Torch2, 9810, 9860
Blackberry curve Series: 9360, 9350, 9370, 9620
Blackberry Pearl 3G Series (360*400) Devices Models: 9100, 9105, 9670(Style)
Blackberry 99XX (OS 7.0) Series (640*480) Devices Models: 9900, 9930, 9981

Description:
Default BlackBerry 6/7 layout with a real time clock! Support ALL BlackBerry OS6 or higher Support ALL languages Notice:
1. Pull the battery or restart your device right after you activate this theme (or any theme);
2. You may found some blank media icons they are NOT real, just click menu key and hide them;
3. This is a animated theme, so it may cost more battery then normal ones;
4. If you find any bug, feel free the send feedback or mail:theme.almostdone#gmail.com, I'll fix them asap; 5. Do Not leave your question in the review, I can't reply or contact you,see #4; 6. If you have question about the date "Jan 30", read BlackBerry news! 7. Have fun ;)

i hope you like it.