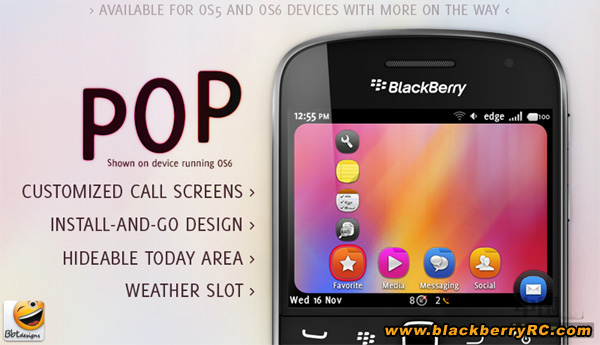 Tag:
bold
97xx
PoP
N9
9650 themes
Overview :
free POP N9 style for blackberry 97xx,9650 bold themes
File Size: 1.16 mb
Required Device Software:
Smartphone: 6.0
model: Blackberry 9650, 9700, 9780

Description:
POP is a fun, vibrant theme that doesn't sacrifice on features.
Features include:
* Weather Slot
* Hideable Today Area with up to 8 items
* Clickable Banner Items
* Over 20 Apps accessible via the Home screen
* Folders with pop up animations
* Hidden App accessible via Spacebar (first slot)
* Custom, vibrant icons
Brighten up your day with POP!
Good to Know (Slot order and folders):
- SPACEBAR will open the 1st icon on your App Page.
- Weather Slot opens the 2nd icon on your App Page.
- The Favorites folder will show the 3rd through 7th icon on your App Page.
- On OS5 *only* the top two "Social" icons correspond to the 8th and 9th icons on your App Page.
- The Favorites folder opens Applications folder on Non-Touch only.
- Folders will open corresponding folders on Non-Touch only (Favorites - Applications, Media - Media, IM - IM, Social - a custom folder named "Social").*
(*some device builds may not open corresponding folders, seems to depend on device)
Weather Slot:
*Third-party Weather App required (e.g. BeWeather Free) to show weather*
Weather Slot will show any App you have in the 2nd slot of your App Page.
Today Area:
Show: Click on the Notification Area, or press 3 (Alt+R).
Hide: Press the Escape key.
TOUCH-based devices:
Press in the empty space on the Home screen to hide/show icons.
Optional Home Screen Shortcuts:
(#) Hide Folders.
(*) Show Folders.
(3) Launch Today Panel. Alternatively, click on the Notifications Area.
Additional Home screen Shortcuts:
(Spacebar) Opens the first icon on your App page
(L) Profiles
(K) Calendar
(O) Options
(M) Messages
(N) BBM
($) SMS
(@) Manage Connections
Follow Bbtdesigns on Twitter and Like us on Facebook for deals and giveaways!
Twitter: @Bbtdesigns | Facebook: /bbtdesigns
Please contact us through our support email (Technical Support tab) with questions/concerns.
Remember to perform a battery pull (remove battery while device is running) after installing a new theme.