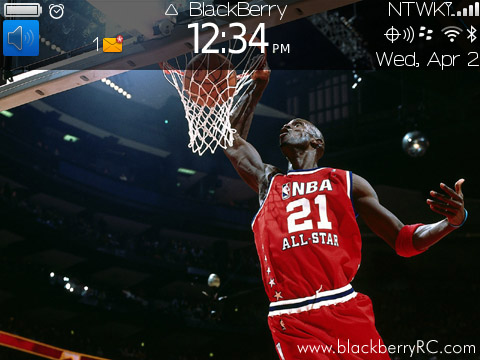 Tag:
bold
Kevin Garnet
Overview :
Kevin Garnett theme for blackberry 97xx,9650 os6.0
About Kevin Garnett:
Kevin Maurice Garnett (born May 19, 1976) is an American professional basketball player who currently plays power forward for the Boston Celtics of the National Basketball Association (NBA). In high school, Garnett was a 1995 McDonald's All-American at Farragut Career Academy and won a national player of the year award.[1][2] Garnett entered the 1995 NBA Draft, where he was selected with the 5th overall pick by the Minnesota Timberwolves and became the first NBA player drafted directly out of high school in 20 years.
Hope you will like this BlackBerry theme. It is suitable for OS 6.0.0 for Bold 97xx,9650 series.

model: 9650, 9700, 9780, 9788 os6.0 theme



Made by BlackberryRC.COM
Please donate for this theme if you like it.