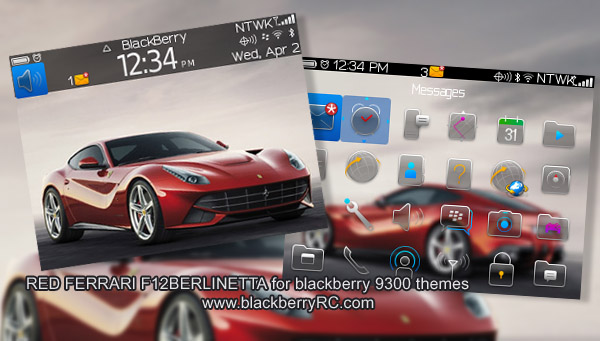 Tag:
9300 themes
curve
red
Ferrari
Overview :
The Ferrari F12Berlinetta a V12 supercar, Ferrari's official website starting on February 29, 2012. Power as Ferrari's history is the most powerful, best performing models, F12berlinetta equipped with a displacement of 6262cc naturally aspirated V12 engine, its maximum power to the outbreak of 740 horsepower and peak torque of up to 690 Nm. With the F1 dual-clutch gearbox, the car can accelerate from standstill to 100 km / h in just 3.1 seconds, 0-200 km / h in just 8.5 seconds. Powerful engine, classic design concepts and excellent aerodynamic characteristics, making the car with the unprecedented and outstanding performance, and become a model for a new generation of Ferrari 12-cylinder super sports car.

size : 262kb
Model: Blackberry Curve 9300 3G, Curve 9330 3G

Made by BlackberryRC.COM
Please donate for this theme if you like it.