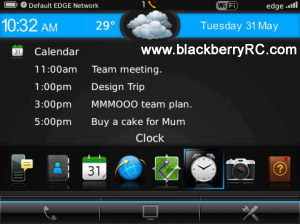 Tag:
bold
MMMOOO
9700 themes
9788 themes
Novel
Overview :
free Novel v1.0.1 for 9650,97xx themes os6.0 by mmmooo
OS 6.0
size:705 KB
model: Bold 9650, Bold 9700, Bold 9780, Bold 9788

Description:
***On Sale!! Free in Limited Time!***
What's mean Smart & Innovative Banner?
★Weather Slot
★Time takes you to Clock
★Date takes you to Calendar
★Notifications takes you to Messages
★Signal takes you to Manage Connections
And all of them in the top banner.

Other Features:
1. Friendly Wallpaper
2. OS7 icons with reflective style
Info: OS4.5 and lower not support this SVG
To activate the theme after successfully downloading: Navigate to Options - Theme - Select the desired Theme and activate.
To uninstall a theme plz delete it in the application list.
Guarantee satisfaction:
If you find a bug or have a feedback, kindly write email to us, we can assist you well or provide revision asap, and a bonus free theme as well. Be so kind that don't leave a malicious comment at the reviews, because we could not reply comments at App World Reviews.