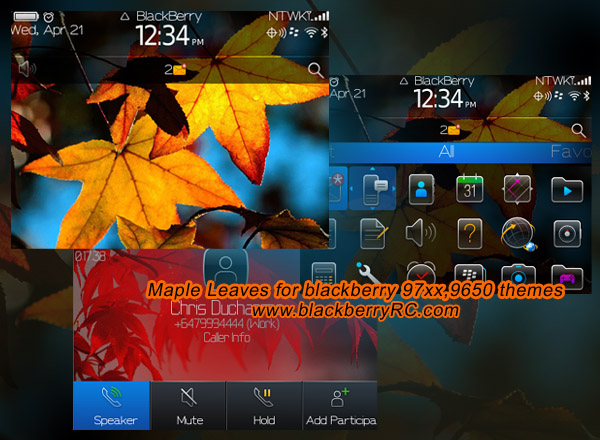 Tag:
bold
leaves
9650 theme
97xx theme
Maple
Overview :
free blackberry themes : Maple Leaves os7 icons theme for bb 97xx,9650 os6.0
Model: 9650,9700,9780
OS: 6.0

About Maple Leaves :
The red maple is also known as scarlet maple and swamp maple. It is easily recognized in the fall when the red leaves stand out along the forest edges along roads and along riverbanks. Of all species along the East Coast, the red maple has the most widespread distribution. The dramatic fall color of red can be seen from an airplane.
Pioneers used the tannin extracted from the tree to make dyes and ink. The dyes were used for linens, hats, and shoes. Sugar may also be drawn from the red maple in very small quantities unlike the sugar maple, which is well known for the production of maple syrup.
The bark of Red Maple is thin, smooth, and gray when it is young. Older Red Maples have bark that is dark gray, rough, and scaly.
Red Maples are deciduous trees, so they lose their leaves in the Fall. Before they drop, leaves turn orange or red.
In the Spring, twigs are very shiny red.
Some of the other trees Red Maples grow with include: Sweetgum, Eastern White Pine, American Elm, Black Oak, Black Cherry, American Beech, Virginia Pine, Yellow Poplar, Silver Maple, and Loblolly Pine.

Made by BlackberryRC.COM
Please donate for this theme if you like it.