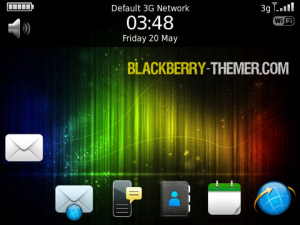 Tag:
bold
9650
97xx
os7
9700
9780
Overview :
free OSi.7 - BT for BB 9650,9700,9780 themes
Compatible Devices:
Blackberry 9650(bold), 9700(Bold2) ,9780(bold), 9788



Description
OSi.7 Style is a Premium Theme. New icon set of OS.7 come with HD Wallpaper and 12 icons Sliding Jumping Dock. Please read all note and feature.
Facebook : http://on.fb.me/ewTkvX
Website : http://www.blackberry-themer.com/
Feature
- OS.7 icon Customized Style.
- HD Wallpaper.
- Jumping Sliding Dock Icon Movement Style
++ BlackBerry® Storm™ & BlackBerry® Torch™ Tilt Image re-size Included
Home screen
- 5 Lines Today Screen (OS.4 & OS.5)
- 12 icons @ Home Screen (For Non-Touch Screen & OS.4 & OS.5 Only)
*Note* OS.6 Already Have Today Screen @ Notification Tab
*Note* OS.6 Can Set Home Screen Icon Row.