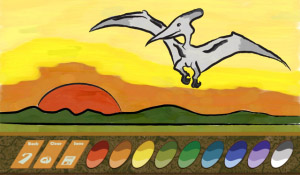 Tag:
Draw
Dinosaur Pai
Overview :
Dinosaur Paint and Draw v1.0.2 for playbook games
File Size: 3933 KB
Required Device Software:
Tablet: 2.0.0 or higher

Description:
Tyrannosaurus rex, stegosaurus and seven other dinosaurs are waiting for your kids to bring them to life with our brand-new dynamic paintbrush!
We have a demo version of this app online that you can try for free: http://dinopaintapp.com
This painting app reacts to how you use the brush. Draw slowly for fine lines, draw quickly and watch your brush grow in size. The dynamic brush makes it easy to stay within the lines and create a true work of art. Images look as if they've been painted by hand or drawn with markers. This brush is so much fun the app is hard to put down!
Swipe down from the top of the app to show and hide the color palette. Your latest changes for each dinosaur are stored, making it easy to work on multiple paintings at the same time. When you're done, save your masterpiece directly to your device gallery and start painting again!