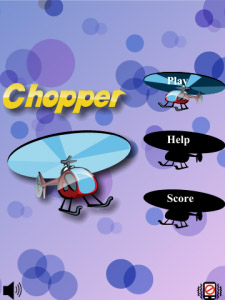 Tag:
bold
curve
torch
Pearl
Helicopter
Chopper
Overview :
Chopper – Helicopter Game for BlackBerry Devices Updated to v1.5.0
Supported devices :
Blackberry 81xx, 82xx, 83xx, 85xx, 87xx, 88xx, 89xx, 9000, 9100, 93xx, 95xx, 96xx, 97xx, 9800, 99xx

Description
The Best Copter game is back for your BlackBerry®!
Just Guide the helicopter all along and avoid the obstacles.
This is a full version game so record High Scores and challenge your friends for unlimited Fun!
HOW TO PLAY:
Just press the SPACE key to guide the chopper.
If you are using a touch device, you can press anywhere on the screen and hold it to fly the chopper.
If you like the game, please post a favorable review!
Happy Gaming :)