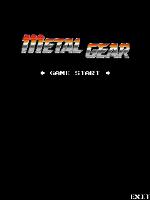 Tag:
Classic
Metal
Gear
Overview :
Model:
Blackberry 8350i (320*240) Related Devices Model: 8500, 8520/Blackberry 83XX Series (320*240) Curve Devices Models: 8300, 8310, 8320, 8330 / Blackberry 87XX Series (320*240) Devices Models: 8700c, 8700r, 8700f, 8700g, 8703e, 8707, 8707g, 8707v .etc /Blackberry 88XX Series (320*240) Devices Models: 8800, 8820, 8830 .etc
Description:
Solid Snake goes back to his roots in this pixel perfect port of the very first Metal Gear? game. Directly reproduced from Kojima Productions' original code of the 8-bit game that started it all, this game contains all the trademark stealth action that made Snake a star for the first time.
nb!! For some reason after buying this game, it only downloaded when I installed a leaked OS 5
I'm not sure if this game is only compatible with OS 5 or if they fixed the .cod file.
Game installs and runs perfect on OS 5
Note on OS 5: It has only officially been, released for bold tour and storm models
The leaked version for blackberry Curve is not bug free.
If you have to install OS 5 to play this game there is a good chance you'll run into glitches
and bugs here and there.