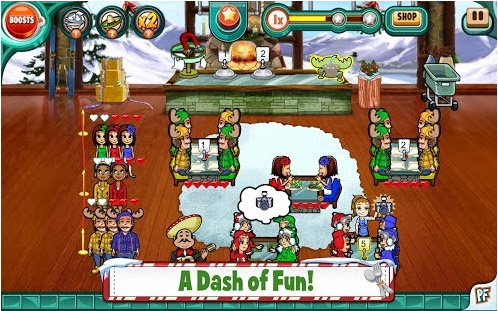 Tag: z10 game q10 game Diner Dash
Overview :

Diner Dash 3.30.15 for blackberry 10 game -- Enjoy 7 levels in this FREE version of Diner Dash, the #1 Time Management Game from PlayFirst! Play the hit game that first launched the Dash craze! With over 20 million downloads to date, Dash is one of the biggest gaming franchises ever.



Version: 3.30.15




Blackberry 10 Devices: Blackberry Dev Alpha, Blackberry Z10, Blackberry Z15, Blackberry Z30, Blackberry A10, Blackberry Q30, Blackberry Q10, Blackberry Q

Build your restaurant empire in this chart-topping game of speed and savvy. Help Flo, a spunky entrepreneur, grow her signature diner from a greasy spoon to a five-star joint. Delight eager customers by seating, serving, and clearing tables quickly to earn big tips. Soothe impatient guests before they get angry and skip out on the bill. Tap and slide your way to the top of the restaurant ladder in this worldwide hit game!

Game Features:

* Serve fun and quirky guests including food critics, vampires, and more!

* Shop the Dash Mart for boosts and upgrades to help you get expert scores.

* Enjoy Diner Dash on your phone or tablet.

* Show off your scores and achievements.