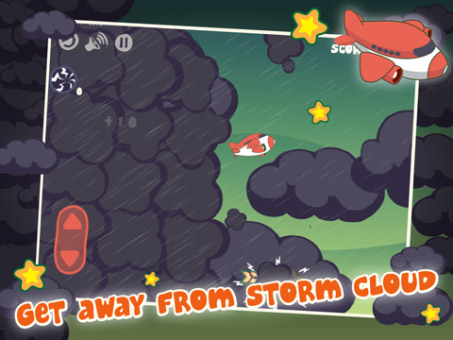 Tag:
plane
Overview :
Play super dangerous and interesting game Plane in Storm!
Features:
-2 game modes: Destination Unknown and Reach in Time
-Super skills and items:
* clouds cleaner that moves all clouds,
* nitro that increases speed,
* lightning protector that protects from thunderbolt,
* spring that pushes away from the plane all flying objects;
- bonuses and stars!
"Good morning, dear passengers. Plane in Storm Airways is happy to have you on the board of our aircraft. Fasten your seat belts because nobody knows what time it is now, nobody knows our destination and our only goal is to survive…"
The plane is caught in bad weather, lives of people depend on pilot's skill and courage. The pilot has no choice but escape storm clouds. The plane can go up and down trying to avoid flying cows, cars, houses and other obstacles. On its way there will be bonuses and stars that will help a player to complete the game.