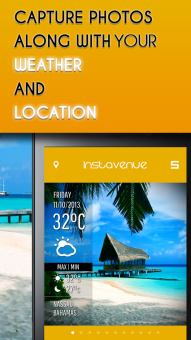 Tag:
Classic
Leap
InstaVenue
Overview :
InstaVenue HD 2.1 for bb classic, leap, q20 apps
WHAT USERS SAY
☆ "InstaVenue for BlackBerry 10 has to be one of the greatest native applications I've seen in a long time. This one gets the big thumbs up from me and will be staying on my BlackBerry forever! " - CrackBerry James
☆ "An app like this is worth switching platforms for... we need more apps like these this is just fricking awesome... wow" - Mcanuck
☆ "Can't believe this is real. One of the best native apps if not the best, this shows off how great native apps can be." - iDrCute
DESCRIPTION
InstaVenue is a unique native location based photo app that overlays your current weather and location on your photos.
You can share the weather info of the place where you currently are on top of your photo that you have just shot with your BlackBerry® device
Simply swipe left or right to choose your favorite skin. Choose your favorite skin from the available skin sets like "Weather", "Travel", "BlackBerry Fans", "Foodies", etc.
InstaVenue is tightly integrated with Foursquare to let you choose from a list of venues nearby and overlay it onto your photo.
Couldn't find your desired venues? You can type them in yourself.
Own a restaurant or a hotel? You can also place your business logo/brand on top of the photos taken. Show your future customers how nice your weather there.
After you are done customizing your picture you can share it right away from within the app via BBM, BBM Groups, BBM Channel, Facebook, Twitter, Foursquare, Email, or even chatting apps like WhatsApp.
You can also simply set them as your BBM or other social medias profile picture and personal message.
Make your friends jealous with a vacation photo and weather condition from the Bahamas.
Why settle for plain photos when you can stamp them with location and weather information?
FEATURES
★ 59 meticulously crafted skins categorized into 8 sets to choose from.
★ Customize your venue with nearby locations search feature.
★ Manually type in your desired menu if you are not satisfied with the nearby venues listed.
★ Some skins allow you to overlay your BlackBerry® PIN onto your pictures.
★ Supports both imperial and metric units. (Fahrenheit, Celcius, Miles, Kilometres, etc)
★ Switch the date format to the one used widely in your country. (D/M/Y, M/D/Y, Y/M/D)
★ Add Instagram like photo filters and frames.
★ Share photos directly to social medias such as BBM, BBM Groups, BBM Channel, Facebook, Twitter, Foursquare, and etc.
★ Set photo as BBM, Twitter, Foursquare, or Facebook display picture.
★ Set your current location as your BBM personal message.
★ Supports ALL BlackBerry smartphones.
P.S.: This application needs a working Internet connection to retrieve your weather and location.
PERMISSIONS EXPLANATIONS
1. Location
This permission is required by InstaVenue to retrieve your location.
2. Shared Files
This permission is required to save to and load photos from your device.
3. Device Identifying Information
This permission is needed by some skins that overlay your BlackBerry® PIN number on your photo.
4. Connect to BBM
This is needed to connect to BBM.
5. Camera
This permission is required to use your BlackBerry® camera
Supported Devices:
BlackBerry Classic
BlackBerry Leap
BlackBerry Passport
BlackBerry Passport Silver Edition
BlackBerry Q10
BlackBerry Q5
BlackBerry Z10
BlackBerry Z3
BlackBerry Z30
Porsche Design P9982
Porsche Design P9983