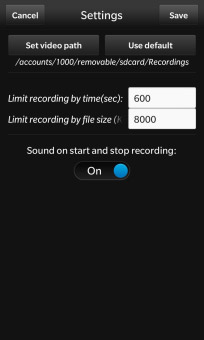 Tag:
VideoBasic
Overview :
VideoBasic lets you record video with video quality of your choice. Just select preferable frame rate and resolution and you get video that can be easily shared using email, MMS or BBM. For example, with low resolution and frame rate playback of 30 seconds takes just about one megabyte.
Here is list of features:
1)
Both rear and front cameras are supported
2)
Configurable frame rate
3)
Configurable resolution
4)
Light on/off (for rear camera)
5)
Recording can be stopped by limiting max video file size or time
6)
During recording both progress bars are shown for both recording time and media file size
7)
Integrated Media Player for quick previewing
8)
Support system Share action for quick sharing
9)
Option to remove recorded file at any point
10)
Configurable location of recorded video file (including SD card)
11)
Silent recording mode
Note: free version of VideoBasic has all options and features of full version. The only restriction is seven second limit on time of recording.
Supported Devices:
BlackBerry Passport
BlackBerry Q10
BlackBerry Q5
BlackBerry Z10
BlackBerry Z3
BlackBerry Z30
Porsche Design P9982
Porsche Design P9983