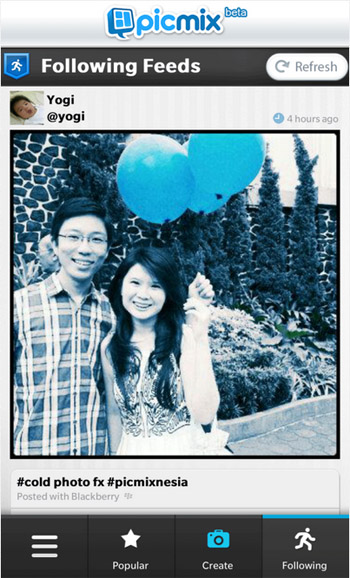 Tag:
Classic
PicMix
pp
Overview :
free PicMix for BlackBerry 10 apps
PicMix update to version 6.0 with NEW FEATURES & Critical Bug Fix!
* Critical bug fix
If you encounter an error on previous version please update immediately to fix the problem.
* Enhanced Image Cropping
Fit your picture to the frame easily with only just one click (inside the Transform menu)
* Mix Credit Support
Now you can purchase Mix Credit and unlock more frames from BlackBerry 10 devices!
* PicMix Shop
Introducing Shop! Now you could send special gifts (frames / stickers) to your friends! *Only run on BlackBerry 10 devices at the moment*
* Facebook Login
You could now use Facebook to login in PicMix.
* Support all BlackBerry OS 10 devices
PicMix has been optimized to BlackBerry OS 10 devices including the latest BlackBerry Passport!
-The BEST and most FAMOUS mobile social photo sharing application. Join millions of users world-wide in PicMix community now!-
A picture is worth a thousand words but multiple pictures in fancy frames text caption and photo effects is worth a MILLION stories and awesomeness. With PicMix you can combine your favorite photos into custom frames adjust the photos add text caption finalize it with touch of fancy EFFECTS and share it to your friend on Facebook Twitter and even set it as your BBM™ or Twitter profile pictures directly. Create a good pictures and grab a place at POPULAR to become PicMix celebrities. Join the CONTEST and win exclusive prizes!
Supported Devices:
BlackBerry Classic
BlackBerry Leap
BlackBerry Passport
BlackBerry Passport Silver Edition
BlackBerry Q10
BlackBerry Q5
BlackBerry Z10
BlackBerry Z3
BlackBerry Z30
Porsche Design P9982
Porsche Design P9983