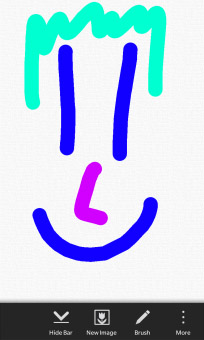 Tag: Painter
Overview :
Painter -- A Sketchpad software, can create the drawing board, you can also open the album picture graffiti, you can change the pen color and pixel.



Supported Devices:

BlackBerry Q10

BlackBerry Q5

BlackBerry Z10

BlackBerry Z3

BlackBerry Z30

Porsche Design P9982

Description:

"Imagine a world a thousand times worse than anything before. Now imagine it far, far worse. And multiply that horror by 8. And what do you have? A world without Painter. The choice is yours, what world do YOU want to live in?" -KermEd (FAH)

"You NEED this" -Tom

- Draw on Images, Camera Photos, or a blank canvas.

- Use any colour you can think of with the hex compatible colour picker.

- Get some cool layered effects using the Visibility setting.

- Choose your brush size.

- *Save Images to view later.

- *Share your 'Glorious Painting' with your favorite .png compatible app.

* Save and Share can be found in the Overflow Menu of the bottom bar.

* Resolution of saved / shared images will match that of your device.